National Landmark Light Up
Scroll down for list of landmarks.
When: September 13 – 19, 2020
Location: Select Landmarks Across Canada – See List Below
Light Up for Mito!
This September 13th through 19th, landmarks across Canada will light up the night in green in support of Mitochondrial Disease Awareness Week.
During your landmark visit, post a picture on our Twitter, Facebook or Instagram, and spark a conversation with those around you and in your online community.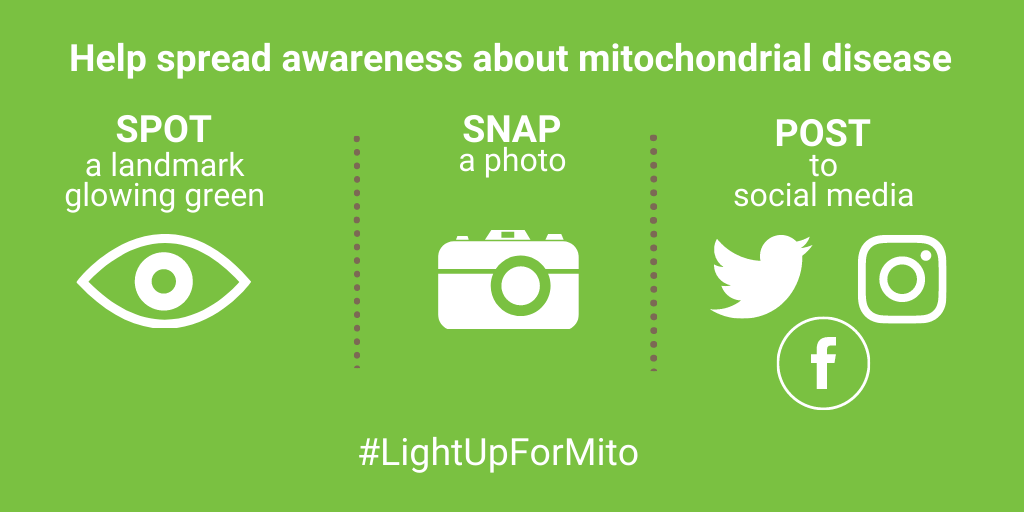 mention @MitoCanada

hashtag #LightUpForMito
Participating Landmarks
Please refer to date column for specific dates of each venue.
Click here to see map of global landmarks lighting up for mito.
BC, Vancouver

BC Place Stadium

September 14

BC, Vancouver

Canada Place Sails of Light

September 13

AB, Calgary

Calgary Tower

September 13
September 15

AB, Calgary

Reconciliation Bridge

September 13

AB, Calgary

McMahon Stadium

September 19

MB, Winnipeg

Winnipeg Sign

September 14

ON, Hamilton

City Hall and Welcome Sign

September 13

ON, London

City Hall

September 11-13

ON, London

JA Taylor Building

September 11-13

ON, London

The Fountain at the Forks

September 11-13

ON, London

The Canada Life Building

September 11-13

ON, London

Sifton Properties

September 11-13

ON, London

RBC London Place

September 11-13

ON, Mississauga

Absolute World Skyline Lightshow

September 13

ON, Mississauga

Civic Centre Clock Tower

September 13

ON, Niagara Falls

Niagara Falls

September 14

ON, Niagara Falls

Skylon Tower

September 14

ON, Toronto

CN Tower

September 13

ON, Toronto

Toronto Sign

September 13

PEI, Charlottetown

City Hall

September 13

NS, Halifax

City Hall

September 13-19

NB, Fredricton

Fredericton City Hall

September 11-14

NFLD, St. John's

City Hall

September 11