MNP Community and Sport Centre
2225 Macleod Trail SE.
 Tel: (403) 233-8393.
We strongly recommend setting up the night before.
MNP will be open so you can do so on Saturday between 6 – 10 pm.
Your gear will be secure and safe.
–
Saturday Night Drop-Off Steps
Gym 5 Emergency Doors will be the main entrance for the event.
Once you come up the ramp to enter the parking lot, take an immediate right.
Loop around the parking area until you enter the marked drop-off zone.
Park your vehicle in the drop-off zone and walk your bicycle and trainer up the steps to the right.
Gym 5 Emergency door will be propped open and a volunteer will be there to provide support.
Grab your lime green park pass from a volunteer to park in the Indigo lot for event day.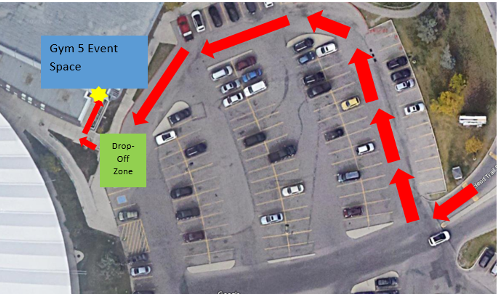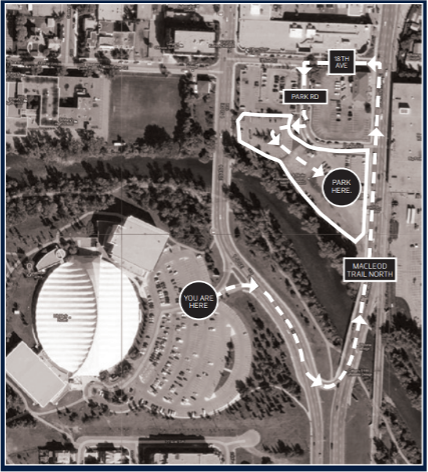 Event Day Parking
MNP is hosting another major event on the same day as MitoSpin so off-site parking is highly recommended as noted below.
The Indigo parking lot is located across from the Casino.
Display your lime green parking pass on your front dash once you are parked in the Indigo lot.
Enter through Gym 5 Emergency doors.
Refer to the diagram for directions on the location.
Event Reminders
Food – we will have a table with fruit, snack, carbs, electrolytes and whey protein samples. Please be sure you also bring fuel for the length of your ride.
Power cords – please bring your own power cord to power your bike. The centre does not have enough cord to power everyone's bikes.
Be Prepared – unless you have pre-booked a bike to be provided on site, you are responsible for your bringing you own ride. Be sure to bring your bike, trainer, front wheel block, shoes, towels, spare tires, tools to change it, and anything else you would need for an extended ride.
Safety is MNPs core value. In the case of an emergency, please listen to the directions of any MNP Community and Sport Centre staff member. If a full evacuation is necessary, please exit the building and proceed to the large electronic sign on Macleod Trail
Please wear clean indoor shoes when entering the Gymnasium.
MitoSpin participants are restricted to the event area.