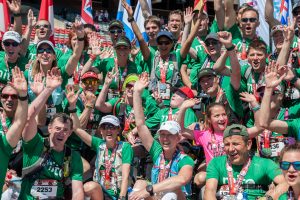 2020 marks the 10th anniversary of MitoCanada. The MitoCanada Foundation charitable organization was formed in 2010 by a group of passionate Canadian parents whose previously happy, healthy children were given a diagnosis of mitochondrial disease. Not willing to be victims of such overwhelming twists of fate, these individuals set out to find solutions that would transform the outlook for their children and to protect others. Through their efforts, they are helping others living with, or at risk of developing, mitochondrial disease cope and find hope in each day.
MitoCanada relies on the generous support of our volunteers, donors, and partners to help fulfill our mission to get one step closer every day to the cure for mitochondrial disease by supporting research and families to succeed.
We provide diagnosed individuals, their families and caregivers with the knowledge and support they need to improve quality of life while raising public awareness of the disease and advancing Canadian research activities.
We are committed to seeing strategies in place that will prevent and cure mitochondrial disease. Until a cure is found, we are facilitating a future where Canadians impacted by this debilitating disease feel inspired, empowered and supported to live their best lives. We are confident that there is hope for the future for Canadians with mitochondrial disease.
We dedicate ourselves to pursuing our mission by practicing and promoting the following set of ethical values, which reflect a shared view of how we want to operate and be seen by others. These include:
Together is better – we believe in the power of a team and the energy that comes out of a group of people with the same goal
Committed 100% – we give it all with no restrictions to our families, our scientists, our supporters and everyone who shares our mission
Knowledge is our beacon – we strive to learn more and have better information and research that can take us closer to our goal
Everyone is welcome! – we value and welcome the support, ideas and points of view people from all cultures and backgrounds
Our mission is supported by a series of goals, which include:
increasing public awareness of mitochondrial disease and dysfunction
being Canada's resource for information and support for individuals, families and caregivers; and the clinical communities that serve them
advancing research into the diagnosis, care, treatment and cure for mitochondrial disease
creating and perpetuating a high functioning, resilient, and sustainable organization