The MitoCanada Foundation and Canadian Mitochondrial Network are founding partners in a transformational initiative known as mitoNET. This collaborative network brings together researchers, allied healthcare providers, patients, patient advocates, industry, policy makers and allied health organizations to solve the most pressing problems related to mitochondrial disease and dysfunction.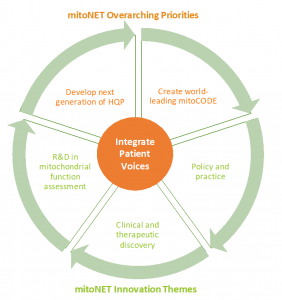 With an inspirational mission to facilitate and support collaboration, discovery, development, capacity building, commercialization and knowledge translation, mitoNET aims to reduce the morbidity, mortality and socio-economic burden of mitochondrial disease for the benefit of Canadians and the global community.
The vision of mitoNET is to predict, prevent and treat mitochondria-related disease through a comprehensive understanding of the mitochondria and their impact on national and global health.