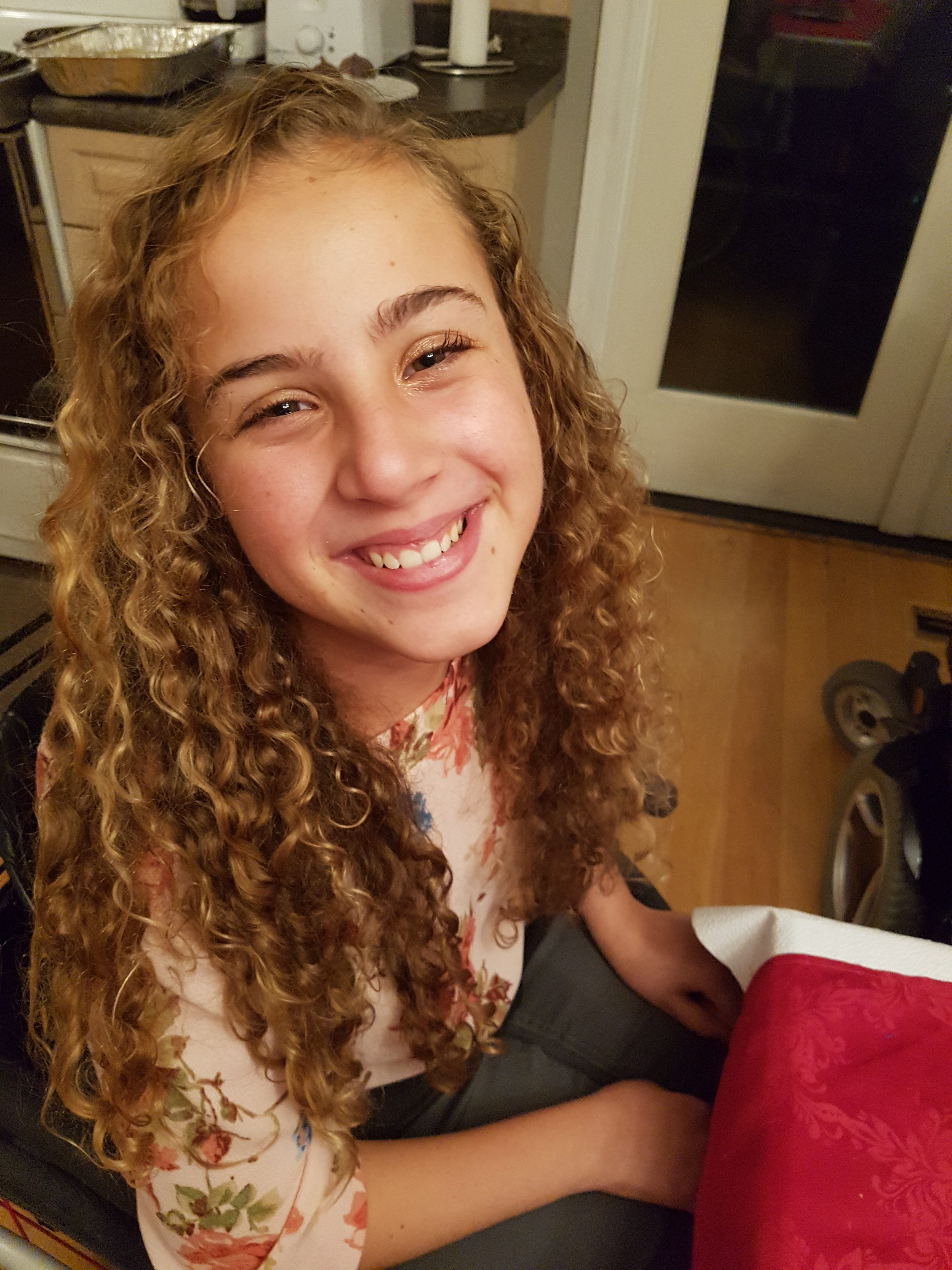 Alessia
Living her best life
Alessia, an active young lady diagnosed with mitochondrial disease at 18 months, has been bravely defying the odds ever since. In 2001, her sister Jesse succumbed to the same disease, shortly after her diagnosis at 18 months. While the doctors weren't hopeful about Alessia condition, she proved them wrong. Not only did she beat the odds of survival, she continually strives to live life to the fullest. She does regular physiotherapy and osteopathy and keeps active with swimming, wheelchair tennis and horse therapy. Alessia is blessed to have an incredibly supportive family, who understands and champions her complex needs.
Barb
So strong. So kind.
Grandmother of eight, mother of six, retired teacher, Barb spent years with many nonspecific energy and digestive issues and elevated hepatic markers. Mitochondrial disease is extremely complex. Getting a diagnosis is just one of the many difficulties.
It took over five years to receive a diagnosis of mitochondrial adrenal dysfunction, which affects her ability to get through the days with strength and energy, and maintain strength and weight. As a runner in her younger years, and a lifelong walker and hiker, this has been very hard, but with her family's support, she is facing every day like the champion she is. Barb's story.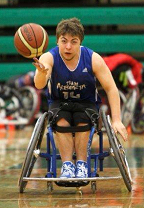 Ben
They call him "Big Ben"
Just 4 years ago, Ben was in London, England watching Canada's men's and women's wheelchair basketball teams compete at the 2012 Paralympic Games. Today, the 19 year old Edmonton lad is in Toronto training full time with Team Canada, at the Wheelchair Basketball Canada Academy.
Ben has degenerative mitochondrial myopathy but that hasn't stopped him from living a full life. Sure he requires the use of a wheelchair and a BiPap machine to breathe at night, lots of medication and doctor visits, but he's a wonderful, independent young man who has worked hard to learn how to pace his life so he can live well with his mitochondrial disorder. He's graduated from high school, is a part time college student and, perhaps most incredibly, he is a high performance wheelchair basketball athlete.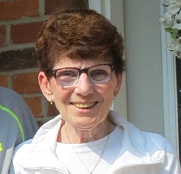 Betty
The heartbeat of a loving family
Betty is a wife, mother and grandmother who was diagnosed with mitochondrial disease a scant six years ago. Suddenly falling ill, Betty was admitted to hospital, her condition a mystery for almost 6 weeks. As her husband despaired at the lack of a clinical diagnosis as his beloved wife's health deteriorated, he watched as her weight dropped to below 80 pounds and she hovered perilously close to death."I will never forget the day" recalls husband Chuck "when an intern made the connection to possible mitochondrial disease and arranged for our family to meet McMaster Hospital specialist Dr. Mark Tarnopolsky". Within 48 hours, Betty was on an intravenous cocktail of nutrients, a treatment that started her on the road to improved health and a return home. Today, the disease has affected Betty's ability both to hear and speak. Since 2014, her family has raised tens of thousands of dollars for the MitoCanada Foundation, in hopes that greater awareness by health-care professionals will help reduce the long term implications of a delayed diagnosis.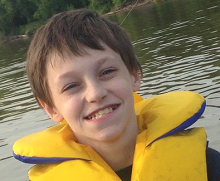 Brandon
Happy, curious and stubbornly optimistic
Brandon was diagnosed with a mitochondrial disease when he was one. The disease makes it hard for Brandon to walk or stand, and has left Brandon unable to speak. He communicates with sign language, and more recently technology. But despite his illness, he exudes optimism. He loves school, loves to fly and loves his family's support. Brandon's wheelchair doesn't keep him from the Winnipeg Blue Bomber or Winnipeg Jets games, nor from camping or travelling. To everyone around him, Brandon is an inspiration.
Dave and Victoria
"One of the biggest challenges is getting diagnosed."
Having your child diagnosed with a rare disease can be an isolating experience, leaving parents wondering what to do, and where they can turn to get help. One of the many Faces of Mito, Dave Mosher has first hand experience as a parent of a child with mitochondrial disease. At the age of one, his daughter Victoria's life was forever changed. As we so often hear with mito stories, what appeared to be a mild illness, quickly deteriorated into something that would forever alter his family's life. MitoCanada's Mission is to get one step closer every day to the cure for mitochondrial disease by supporting research and families to succeed.
Learn about Dave's relationship with mitochondrial disease as a parent, and the work he is most proud of as MitoCanada's board Chair. Watch video now at: http://ow.ly/P3Qt50AoAgO
Decklan
The bravest 7 year old you will ever meet, with a smile and laugh that can light up any room. #mightydecklan
When Decklan was six months old his parents started to notice that his development "just wasn't right." He had trouble gaining weight and developing motor skills. Decklan was always in and out of the hospital seeing one specialist after another. Over time, Decklan's condition started to worsen and he began tremoring quite a bit. Eager to find an answer, his parents had him undergo genetic testing. This led to Decklan being diagnosed with Leigh Syndrome at the age of five. At this point, Decklan was already beating the odds and proving to everyone that he was here to stay! Since his diagnosis, Decklan has had a gastrostomy tube put in and is starting to gain a good amount of weight. With the help of family, friends, doctors, and the mitocommunity, Decklan is in better health than ever! His still has many challenges, but this unrelenting 7-year-old keeps proving just how strong he is. Decklan's story.
Evan
A smile that lights up the room
Evan was a happy, healthy child before going in for a routine appendectomy at age 3. He didn't recover as expected and was left quadriplegic, having been subsequently diagnosed with mitochondrial disease. He's fed by a tube, has trouble lifting his head, suffers chronic bouts of pain, and has no reliable way to communicate with the outside world. But despite all this, Evan's smile is a common theme with all that meet him sharing, "When you smile, I smile." Evan's diagnosis led to the founding of MitoCanada in 2010, and inspired this awareness video, when you smile, I smile.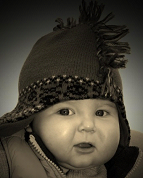 Frankie G
Those cheeks!
Frankie G passed away shortly after his first birthday from mitochondrial disease. He was a happy baby, always smiling. He enjoyed swimming lessons, baby dance, music, yoga classes and storytime. Whoever was lucky enough to meet Frankie, always remarked about his chubby cheeks and cute smile. Although he lived a short life, Frankie left a lifetime of special memories and continues to inspire the Annual Frankie G Pub Night event in lower British Columbia.
Jen
"We need to be less competitive and more inclusive as a society."
Being diagnosed with a rare disease can leave a patient feeling isolated and alone. Having a strong support network is critical to their wellbeing.
Jen is a close friend to mitochondrial disease patient Marsha, and an amazing supporter of the mitocommunity. Always helping with fundraisers and community events for mitochondrial disease, she is a kind spirit that wants everyone to be included in the fun.
Click here to read Jen's story.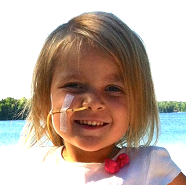 Kate
She fought like a warrior
Kate died of a rare form of mitochondrial disease at eight years old. Life was difficult for this bubbly, blonde-haired beauty, who struggled to walk and speak but loved singing a few words of "O'Canada" at school. Kate liked princesses, play-dough, pasta and being outdoors. Always laughing and giggling, she brought her indomitable spirit to how she lived her short life.
Liam
You are my Son Shine. — Liam's Dad
Liam is the sweetest little boy, a true warrior and fighter. At 3 years old, Liam was not yet talking and was walking very clumsily. He was diagnosed with autism and began applied behavioral analysis (ABA) therapy and occupational therapy. At 5 years old, he suffered a series of seizures that required a month-long stay at the hospital.
Like many mitochondrial patients, it took over five years, and six doctors to receive a diagnosis. Genetic testing revealed that he had POLG disorder, a type of mitochondrial disease that affects his nervous system. This results in developmental delays, balance issues, lack of reflexes, and epilepsy. The doctors gave Liam 3 months to 12 years to live. Liam now takes a cocktail of supplements and medication to help keep him stable and control his seizures.
Despite his challenges, Liam laughs and smiles every day. Now 7-years-old, he loves the school program his ABA therapist created for him, and is having fun playing and socializing with others. He loves letters and numbers and his laptop! Liam's story.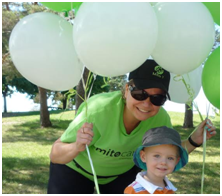 Louise
Overcoming challenges with grit and determination
Walking is a challenge for Louise, but that hasn't stopped her from building her MitoPower team of walkers that show up to support MitoCanada's annual awareness and fundraising walk. Together with her sister Rita (who also has mitochondrial disease), Louise powers through despite the difficult walking distances and keeping up with other people. She takes this all very seriously by training hard and never giving up. Even her walking coach, Jennifer, is amazed at Louise's effort and commitment.
Marilyn
Paddles up!
Marilyn was diagnosed with a mitochondrial disorder in 2012. Like so many others, she went for 10 years without being properly diagnosed. Now, with a modified diet, lifestyle changes and medications, Marilyn is able to continue to do the things that bring her joy, including strapping on her lifejacket and heading out to practice with her dragon-boat team. Paddling is an important part of her life, having discovered how to move her body in a different way and with that comes a feeling of freedom on the water. Marilyn's teammates have been incredible support both physically and emotionally.
Marsha
"Get out there and spread the word!"
It only takes one meeting with Marsha to be captivated her infectious smile. Right off the bat, you can feel her dedication and positivity. Marsha has never allowed her shortcomings to limit her will to push forward. She always finds creative ways to be a part of the action!
Since her childhood, Marsha had to work twice as hard to keep up with her peers. The sports and activities she loved took an unimaginable toll on her body. She often questioned why this was the case but was never able to get the answers she needed until a minor mistake on a lab requisition changed her life forever.
Ocean and Azalea's Story
Cheer attitude
Today, you can find Ocean, an adventurous young boy spending his summer days sailing on a lake and his winters playing hockey with his friends in the local minor hockey league. Azalea, a bright girl, will give you a run for your money with her "Cheer Attitude" doing flips and being tossed in the air without a care in the world! It was not always this easy for these two and it certainly was not always without trouble. You would never have guessed that Ocean and Azalea spent the better part of their early years in and out of the hospital undergoing multiple hospitalizations and a battery of tests to figure out exactly what was wrong with them.
It all started one morning when Ocean's parents discovered him unconscious in his bed at the age of two and a half…
Tanner
The charming mito warrior
7-year-old Tanner has always been a charmer, but his health was put into jeopardy when he was diagnosed with Leigh's Disease at the age of three. Through further testing, he was confirmed to have mitochondrial complex I deficiency with Leigh like diseases. Tanner was given two years to live, but he has been defeating the odds ever since. He never stops showing this ugly disease whose boss! Speech, mobility, and everyday functions may have been taken away, but the smile on this little man's face shows just how strong this Mito Warrior he is! Tanner's story.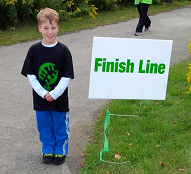 Tayden
A young man who exudes self-confidence and independence
Tayden was diagnosed with mitochondrial disease as an infant, but defies the disease despite having low muscle tone and muscle weakness. As an infant, he did not have the muscle strength to drink from a bottle resulting in the need for a NG feeding tube for 6 weeks. As a toddler and preschooler, Tayden attended regular physical therapy and occupational therapy sessions. Tayden took his first steps 4 months after his 2nd birthday. Several summers ago,Tayden was playing with a family friend and ended up with a broken leg. Due to the type of fracture, he spent an entire 8 weeks immobile and then in a wheelchair. His family was very concerned that he would have much difficulty walking once out of his cast, but he bounced right back. Today, Tayden is smart and funny who loves to participate in sports with his friends. He currently participates in an after school Taekwondo program, and is about to take his next belt test to become a green-stripe.
Thomas
I was born to be an athlete.
I was born to be an athlete. I would be playing sports 24/7. My main sports were baseball and hockey but if you put a ball in my hands I could do or play anything.
In 2012 I had a seizure at a big family event. I later went to a doctor and they said it might just pass. It didn't. A couple years later I went to Disney World and I had another seizure. I was later put on some medications to help prevent these seizures.
During high school I started feeling tired in my legs and body. I could not walk from the parking lot to the school without getting tired. The athlete who could play for days and run for hours was no more. We saw a million doctors and it took 4 years to diagnose my mitochondrial disease. For me this felt like 40 years.
Throughout the years I have struggled mentally, socially and physically. I have dealt with neck pains, seizures and thoughts people can't even imagine. I eventually broke through these barriers a couple months ago. I had some help from my parents and sometimes I just had to learn through time. I now run my own blog on Instagram called @lifesjourneythomasz. I've always had a passion for helping people and that's what I plan to do. Thomas' story.
Do you have a story to share? Contact us at info@mitocanada.org and enter "share my story" in the subject field.