National Landmark Light Up
Scroll down for list of landmarks.
When: September 19 – 25, 2021
Location: Select Landmarks Across Canada – See List Below
Light Up for Mito!
This September 19th through 25th, landmarks across Canada will light up the night in green in support of Mitochondrial Disease Awareness Week.
During your landmark visit, post a picture on our Twitter, Facebook or Instagram, and spark a conversation with those around you and in your online community.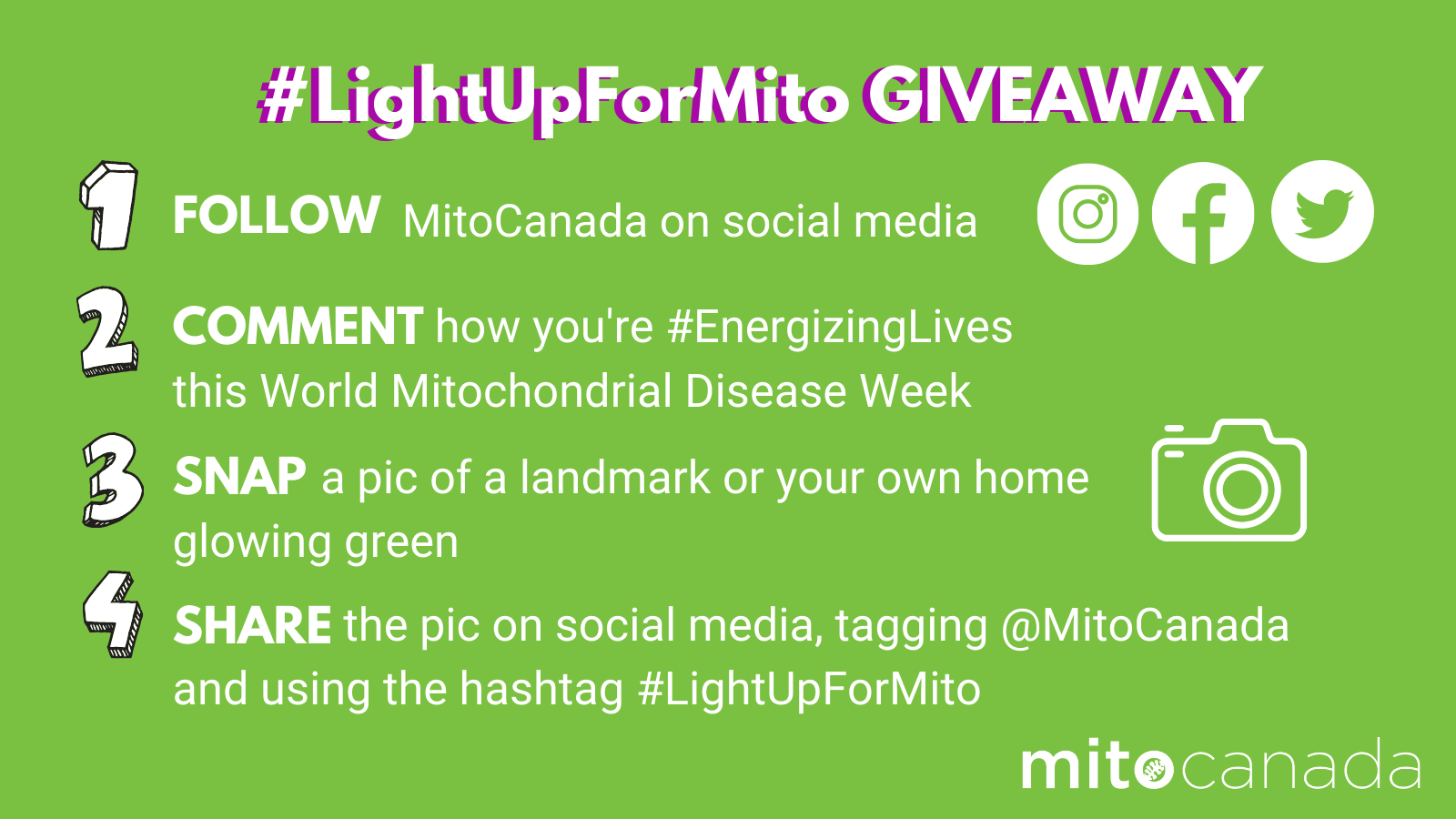 It's your time to shine… and WIN!
Support global efforts to increase awareness when you Light Up for Mito. When you share our messages and your photos on MitoCanada's Instagram, Facebook or Twitter, you could be one of 5 winners randomly selected to WIN MitoCanada Prize Packs.
Giveaway closes on Sunday, September 26th at midnight MT. Winners announced Monday, September 27th.
Light Up For Mito 2021 Canadian Locations
International Light Up For Mito 2021 Sites
Participating Landmarks
Please refer to date column for specific dates of each venue. Also check out the international landmarks lighting up for Mito!
Alberta
| | | | |
| --- | --- | --- | --- |
| City | Landmark | Address | Date of Light Up |
| Edmonton | High Level Bridge | 109 St NW | September 21st |
| Calgary | Calgary Tower | 101 9 Ave SW | September 25th |
| Calgary | Spark Sci Centre | 220 Saint George's Drive NE | September 25th |
| Calgary | McMahon Stadium | 817 Crowchild Trail NW | September 25th |
| Calgary | Reconciliation Bridge | 4th Avenue South and Memorial Drive | September 25th |
| Fort McMurray | Saline Creek Pedestrian Bridge | Saline Creek Dr | September 25th |
| Medicine Hat | Medicine Hat Tepee | 32 Eagle Birth Rd SW | September 25th |
| Lethbridge | Lethbridge City Hall | 910 4 Ave S | September 25th |
| Red Deer | Red Deer City Hall | 4914 48 Ave | September 25th |
| Grande Prairie | Grande Prairie SunDial | 11330 106 St. | September 25th |
British Columbia
| | | | |
| --- | --- | --- | --- |
| City | Landmark | Address | Date of Light Up |
| Vancouver | BC Place | 777 Pacific Blvd | September 21st |
| Maple Ridge | Maple Ridge City Hall | 11995 Haney Pl | September 24th |
| Vancouver | Bloedel Conservatory | 4600 Cambie St | September 25th |
| Vancouver | Sails of Light | 999 Canada Pl | September 25th |
| Vancouver | Science World Dome | 1455 Quebec St. | September 25th |
| Vancouver | Vancouver City Hall and Burrard Street Bridge | 453 West 12th Avenue | September 25th |
| Vancouver | Vancouver Convention Centre | 1055 Canada Pl | September 25th |
| Trail | Victoria Street Bridge | Victoria St, Trail, BC | September 25th |
| Victoria | Legislative Assembly grounds of BC | 501 Belleville St | September 25th |
| Whistler | | Fitzsimmons Creek | September 25th |
Manitoba
| | | | |
| --- | --- | --- | --- |
| City | Landmark | Address | Date of Light Up |
| Winnipeg | Manitoba Legislative Building | 450 Broadway | September 25th |
NewfoundLand
| | | | |
| --- | --- | --- | --- |
| City | Landmark | Address | Date of Light Up |
| St. John's | Cabot Tower | Signal Hill Rd | September 25th |
| St John's | City Hall | 10 New Gower St. | September 25th |
New Brunswick
City
Landmark
Address
Date of Light Up

Fredericton

Fredericton City Hall

397 Queen St

September

20-27th

Moncton

Downing Street

September 25th

Fredericton

NB Legislative Assembly

706 Queen St

September 25th
Nova Scotia
City
Landmark
Address
Date of Light Up

Truro

Truro Library

754 Prince St

September

24th

Sydney

The Big Fiddle

74 Esplanade

September 25th

Halifax

Halifax City Hall

1841 Argyle St

September 25th
Ontario
City
Landmark
Address
Date of Light Up

Hamilton

Hamilton Sign

71 Main St W

September

22-24th

Newmarket

Riverwalk Commons and the Fred A. Lundy Bridge

Doug Duncan Dr

September

23rd

Kingston

Kingston City Hall

216 Ontario St

September

24th

Burlington

Brant Street Pier

1400 Lakeshore Rd

September

24th

London

RBC Place London

300 York St

September

24-26th

Brampton

Brampton Clock Tower

55 George St S

September 25th

Cambridge

Cambridge Bridge & Sign Lighting

Main St

September 25th

London

London City Hall

300 Dufferin Ave

September 25th

London

Canada Life Building

255 Queens Ave

September 25th

London

JA Taylor Building

267 Dundas St

September 25th

Mississauga

Port Credit Lighthouse

105 Lakeshore Rd W

September 25th

Mississauga

Mississauga Light Tower

300 City Centre Dr

September 25th

Niagara Falls

Niagara Falls

Niagara Pkwy

September 25th 10:15pm-10:30pm

Oakville

Oakville City Hall

1225 Trafalgar Rd

September 25th

Toronto

CN Tower

290 Bremner Blvd

September 25th

Toronto

Canada Life Building

330 University Ave

September 25th

Vaughan

Vaughan City Hall

2141 Major MacKenzie Dr W

September 25th
Prince Edward Island
| | | | |
| --- | --- | --- | --- |
| City | Landmark | Address | Date of Light Up |
| Charlottetown | Charlottetown City Hall | 199 Queen St | September 25th |
Quebec
| | | | |
| --- | --- | --- | --- |
| City | Landmark | Address | Date of Light Up |
| Montreal | La Grande Roue de Montreal | 362 Rue de la Commune E | September 21st |