2018 YEAR END GIVING | ENERGIZE THE FIGHT!
Holiday season is fast approaching and with the new year just around the corner, it's a wonderful chance for us to give thanks to you, our partners and members, for your support and engagement throughout 2018.
With many Canadian families touched by a mitochondrial disease diagnosis, access to resources and support has never been greater.
Today, you have the power to bring a little peace of mind and comfort to families by donating to MitoCanada and funding programs that can help make a world of difference.
Give the Gift of Energy »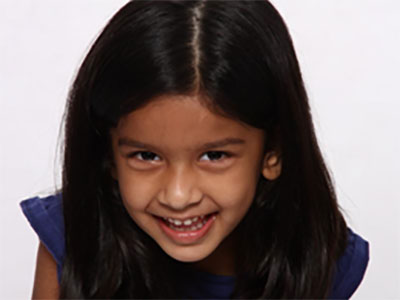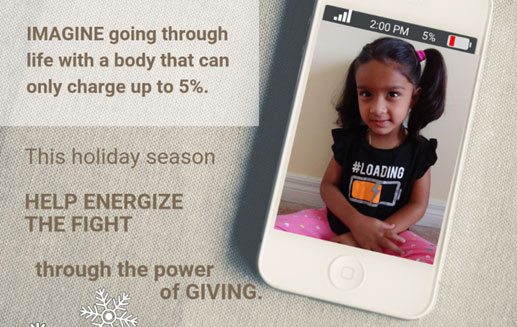 MitoCanada Support | Anakha's Story
Should you meet Anakha, you will instantly agree she is a beautiful bright-eyed child with an impish sense of humour and a smile that will instantly steal your heart. There isn't anyone around Anakha that would take her smile for granted; but behind that smile is a strong, brave four year old.
Anakha fell ill when she was just 9 months old. Over the course of four weeks, she abruptly lost her ability to move, see, and speak. A few short days into her hospitalization, Anakha's parents were told she had leukodystrophy – abnormal development or destruction of white matter in the brain. The next step was to determine the disease causing the condition.
Transferred to the Hospital for Sick Children, specialists immediately began administering tests and genetic sequencing. It was the genetic sequencing that reveal Anakha had Multiple Mitochondrial Dysfunction Syndrome, Type 3 (MMDS-3). At the time of her diagnosis, only three other children were known to have this condition, and sadly all had passed away before 18 months of age. No one expected Anakha to survive, no less get better. Despite the grim prognosis, Anakha's parents refused to give up. They began searching for anything and anyone that could help their family through these dark times. One of those supports was MitoCanada.
"Through the support of groups like MitoCanada, we were able to educate ourselves very early on in our journey on what makes mitochondrial diseases unique, and advocate for key interventions.Today, at four years old, Anakha is thriving. She expertly handles her wheelchair, uses a walker, reads books, attends school, and won't stop talking – her current favourite expression is:
"Try again! Never give up!"
DONATE TODAY