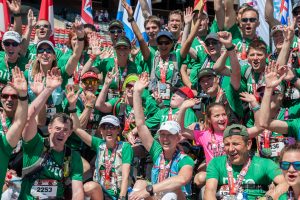 The MitoCanada Foundation is Canada's only not-for-profit organization focused on mitochondrial disease. Our charitable organization was formed in 2010 by a group of passionate Canadian parents whose previously happy, healthy children were given a diagnosis of mitochondrial disease. Not willing to be victims of such overwhelming twists of fate, these individuals set out to find solutions that would transform the outlook for their children and to protect others. Through their efforts, they are helping others living with, or at risk of developing, mitochondrial disease cope and find hope in each day.
MitoCanada relies on the generous support of our volunteers, donors, and partners to help fulfill our mission to transform the outlook for persons facing a diagnosis of mitochondrial disease/dysfunction. We provide diagnosed individuals, their families and caregivers with the knowledge and support they need to improve quality of life while raising public awareness of the disease and advancing Canadian research activities.
We are committed to seeing strategies in place that will prevent and cure mitochondrial disease. Until a cure is found, we are facilitating a future where Canadians impacted by this debilitating disease feel inspired, empowered and supported to live their best lives. We are confident that there is hope for the future for Canadians with mitochondrial disease.
We dedicate ourselves to pursuing our mission by practicing and promoting the following set of ethical values, which reflect a shared view of how we want to operate and be seen by others. These include:
respect, trust, honesty
balanced, sustainable and ethical behavior
mission-focused and committed to our cause
collaborative, evaluative and effective
openly communicative
Our mission is supported by a series of goals, which include:
increasing public awareness of mitochondrial disease and dysfunction
being Canada's resource for information and support for individuals, families and caregivers; and the clinical communities that serve them
advancing research into the diagnosis, care, treatment and cure for mitochondrial disease
creating and perpetuating a high functioning, resilient, and sustainable organization
MitoCanada is growing. Our growth allows us to support more people living with mitochondrial disease through our programs. Below are just a few of the milestones we've reached so far.
| 2018 | 2018 welcomes a new Executive Director to MitoCanada, Blaine Penny.  Co-founder of MitoCanada and teamMITO founder, Blaine brings passion, dedication and a broad skill set to our growing organization. Join us in welcoming Blaine! |
| --- | --- |
| 2017 | TEAMmito Founder and MitoCanada Co-Founder, Blaine Penny spoke with CBC's Heather Hiscox on CBC Morning Live about raising awareness for mitochondrial disease, prior to breaking the Guinness World Record of running with 111 other runners linked together at the Calgary Marathon. |
| 2017 | MitoCanada, in partnership with the Canadian Inherited Metabolic Disease Research Network (CIMDRN), releases the first-ever study of clinical practice for mitochondrial disease in Canada. |
| 2017 | MitoCanada presents Canada's first mitochondrial disease conference, Closing the Gap, Setting a Patient-Centred Research Agenda for Mitochondrial Disease. |
| 2017 | MitoCanada partners with the Canadian Mitochondrial Network to co-found MitoNet.ca, a collaborative network that brings together researchers, allied healthcare providers, patients, patient advocates, industry, policy makers and allied health organizations. |
| 2016 | MitoCanada accepted as a full member of International Mito Patients (IMP), a network of national patient organizations with an interest in mitochondrial disease. The network is comprised of 12 full members representing 11 countries. |
| 2016 | TEAMmito breaks 6 Guinness World Records, including the greatest distance run (260.40 km) on a treadmill in 24 hours, at the Calgary Marathon Expo. |
| 2015 | MitoCanada announces the establishment of The Beacon Awards, annual awards that recognises and honours individuals and organisations making an exceptional contribution in service to the MitoCanada Foundation. |
| 2013 | TEAMmito sets Guinness World Record for running the Calgary Marathon in 2:55:23 with 10 runners linked together by surgical tubing. https://www.youtube.com/watch?v=xs2rt1bWgQs |
| 2010 | The MitoCanada Foundation is established as Canada's only charitable organization focused on finding the solutions needed to mitochondrial disease. |