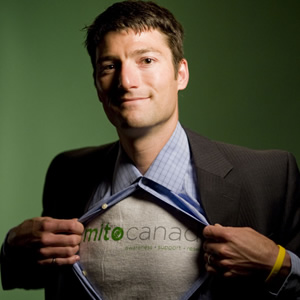 Blaine Penny, MitoCanada Co-Founder, Inaugural Chair, TEAMmito Co-Founder
Blaine Penny's commitment to MitoCanada is legendary. Shortly after his son, Evan, was diagnosed with a mitochondrial disorder in March 2009, Blaine met several other Canadians affected by the disease at the annual UMDF Symposium in Washington, DC. Since that meeting, he has been passionately involved as MitoCanada's inaugural Board Chair and the co-founder of TEAMmito, our grassroots awareness and fundraising program for MitoCanada.
Blaine is Vice President of Global Energy Customer Solution at HIS Markit in Calgary, Alberta. He is a professional engineer with a degree from Lakehead University, holds a certificate in Business, Management and Marketing, Related Support Services from Haskayne Business School. Blaine has held several leadership roles over his career, including CEO of the engineering consulting firm, Integrated Sustainability. He has over 14 years experience volunteering, holding positions such as Chair and Treasurer for two other not-for-profit organizations. Blaine has also been formally recognized by the community through being selected to attend the Governor Generals Leadership Conference (2015), 'Kickass Canadian' (2012), Calgary 'Top 40 Under 40' (2010) and is a two-time Canadian Ultramarathon Champion.
Blaine, his wife Sarah, daughter Julia and son Evan have been, and continue to be, extraordinary supporters of MitoCanada. With their passion, sacrifice, sheer hard work and determination, the Penny family is the ultimate "energizer" for mitochondrial disease.
Click here to watch their story
Read More